New Axxess Integration Accessories are Coming to SEMA 2022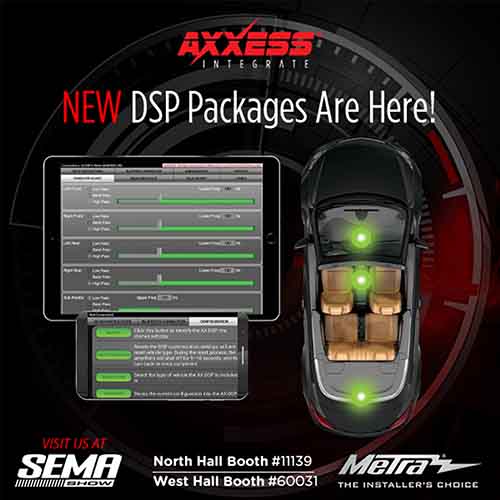 Holly Hill, Fla. –
Axxess
®
by
Metra Electronics
®
has expanded its product line to include additional vehicle applications for popular integration solutions and will showcase these new products at the SEMA show on November 1st-4th at the Las Vegas Convention Center. Now shipping are new vehicle-specific DSP packages, amp retention interfaces, STOP/START engine override interfaces, AXTC Series interfaces, line output converters, and DSP T-harnesses. These new integration accessories are designed to help installers deliver upgraded sound systems and everyday convenience to drivers, with less labor and work in the install bay. New products launching at SEMA include:
DSP Packages
Axxess's new DSPL and DSPX packages fit select Chrysler, Lincoln, BMW, and GM vehicles, including industry-leading solutions designed for Ethernet amplifiers in BOSE sound systems. These products feature combined digital signal processor and Interface technologies that allow installers to upgrade their music experience and customize their sound system. The DSP reflashes the OE radio and gives full tuning control from the palm of your hand. It is designed to integrate with factory audio systems and offers easy sound system expansion. Axxess' DSPL series provides six channels of output and a 15-band graphic EQ per channel, while the DSPX series features 10 channels of output and a 31-band graphic EQ per channel. Both products offer selectable crossover slopes. These products feature independent equalization for each output and the ability to read, write, and store configurations for future recall. All tuning is done wirelessly via a free downloadable app, available exclusively for Android® devices using the Google Play store.
Vehicle-Specific DSP T-Harnesses
Another exciting announcement from Axxess are new vehicle-specific DSP T-harnesses, designed to fit select BMW, Chrysler, Ford, GM, Honda, Mitsubishi, Nissan, Toyota, and more. These harnesses offer an "a la carte" option for installers where they can use them to fit their unique needs or pair them with Axxess' DSPX or DSPL packages. These harnesses have easy plug-n-play installation and provide versatile, cost-effective solutions for installers allowing them to keep less inventory in stock.
Amp Retention Interfaces
Axxess is debuting two new amp retention interfaces at SEMA; one designed to retain the Harmon Kardon® amplifier in select European vehicles such as BMW and Porsche, and one designed to retain the BOSE amplifier in select GM vehicles. These add-on amplifier interfaces are used when replacing the factory radio, such as with Metra's dash kits. These interfaces also retain the balance audio feature when replacing the factory radio and are Micro "B" USB updatable.
START/STOP Engine Override Interface
Axxess expands its AXSSO series with a new START/STOP engine override interface for select 2020-Up* Chrysler vehicles. This interface automatically disengages the STOP/START engine feature. The setting remains even after the key has been cycled, and the factory STOP/START button can resume the STOP/START feature once again. This exclusive and patented technology works with factory or aftermarket radios and is programmed through the Axxess Updater software program. This interface has weather-resistant housing and harnessing with plug-n-play installation under the hood.
AXTC Interfaces
A new Interface has been added to Axxess' Total Control Series, designed for use when replacing the radio in select Ford 2015-2018* vehicles. These products utilize patented Auto-Detect technology that automatically detects the vehicle type, radio connection, and preset controls, while allowing the ability to dual-assign steering wheel controls. It provides NAV outputs, accessory power, and a 12-volt illumination output, in addition to retaining R.A.P., and balance and fade. The Axxess Total Control Series is a universal solution designed to work with all major radio brands and both amplified and non-amplified audio systems. They can be manually programmed for most vehicles and will retain settings even after battery disconnection or interface removal.
Vehicle-Specific Line Output Converters
Axxess is introducing an assortment of new vehicle-specific line output converters designed to fit select BMW, Chrysler, Ford, GM, Honda, Hyundai, Nissan, Toyota, and more. These LOCs feature T-harnesses that install quickly and make it easy for installers to add an amplifier for subwoofers or speakers to a factory radio. They are designed to provide (2) channels of low-level audio output from the factory system, with 55 watts per channel. A Gain Controller is included to adjust overall output, and they are 12v-500mA remote wire activated with signal sense.
These products will be showcased at the Las Vegas Convention Center at Metra's 2022 SEMA Show booths, November 1st-4th. The main booth will be #11139 in the North Hall, and its off-roading and powersports products will be on display at booth #60031 in the West Hall. More product details will be available at AxxessInterfaces.com soon after the show.
*Visit MetraOnline.com for up-to-date vehicle-specific applications.
About Metra Electronics®
At Metra, 12volt installation and integration is our passion. We strive to continuously offer the highest quality products to meet the fluctuating technological challenges of the automotive world. We actively listen to our customers' requests and invest resources in developing the highest quality dash kit and harness solutions. We make dash kits for more vehicle applications than anyone else in the world. That's why we've been known as "The Installer's Choice" ® for more than 75 years. Our other brands include:
Axxess®
,
T-SPEC®
,
The Install Bay®
,
Heise LED Lighting Systems®
,
iBEAM Vehicle Safety Systems®
,
Shuriken High Performance Batteries®
,
Raptor®
, Ballistic®,
AmmoTenna®
,
Metra PowerSports®
, Saddle Tramp®,
Metra Marine®
and Daytona Lights®. Metra's expertise in connectivity solutions is also applied to its division of premium AV and surveillance products from
MetraAV™
. For ordering information and pricing, visit Metra Electronics online at MetraOnline.com or call 386-257-2956.