New Axxess® Line Output Converters and Accessories Debut at SEMA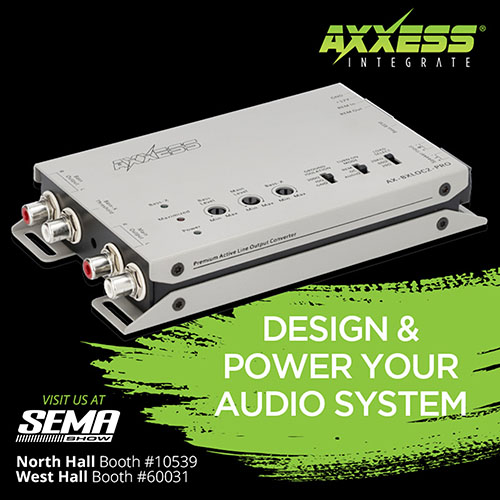 Holly Hill, Fla.
–
Axxess
®
by
Metra Electronics
®
is unveiling new high-voltage active line output converters (LOCs), an active LOC with bass enhancement processor, active LOCs with bass restoration, load resistors, vehicle-specific active LOC T-harnesses, and active noise canceling (ANC) bypass harnesses products at the 2023 SEMA Show. These products are designed to give car audio enthusiasts reliability and convenience when designing and powering their audio systems and will be displayed from October 31 to November 3 at the Las Vegas Convention Center. Metra's main booth will be #10539 in the North Hall of the LVCC, and its off-roading and powersports products will be displayed at booth #60031 in the West Hall.
High-Voltage Active Line Output Converters (LOCs)
These new LOCs have universal applications and enable installers to add aftermarket amplifiers to OEM source units to make factory systems sound great! This product line features incredible input power capabilities, a load selector, a clip indicator, enhanced output controls, and noise isolation countermeasures. Axxess will also offer an add-on product, the AX-RM1, that plugs into their Pro Series and LD Series LOC products to provide an additional subwoofer level adjustment via an external bass knob. The AX-LOC product line will include a variety of options to fit installers' unique needs.
6-Channel Premium Active Summing LOC
The AX-LOC6.6-PRO is a 6-channel Active Summing LOC from the Axxess Pro Series that provides seamless integration by summing OEM audio signals, delivering a full-range output that captures every detail and nuance of audio tracks. Various frequency input signals are taken from an OEM amplifier or OEM source unit and output as a full-range summed signal required for aftermarket equipment. The result is enhanced clarity, depth, and balance so that music can be enjoyed like never before. A compact remote control is included featuring a knob for adjusting the primary volume of each of the six channels, and a second knob for controlling the bass level of channels five and six.
Active LOC with Bass Enhancement Processor
This active LOC with a bass enhancement processor has cutting-edge features to enhance the
sound of audio systems, capturing the full range of deep tones within music. This device seamlessly integrates into a vehicle's factory audio system, preserving the original aesthetics. It scans incoming audio signals from the radio to replace low-frequency information that is lost in compressed music, such as missing bass tones. It then increases bass response accordingly with a built-in line driver. Adaptive activation modes let users choose between a traditional 12-volt remote trigger, the simplicity of DC offset, or audio sense activation for ultimate customization.
This LOC features a programmable subsonic harmonizer that filters out subsonic noise, protecting speakers while enhancing overall clarity. High-voltage output settings unleash the full potential of an audio system, providing an impressive 10-volt output voltage. Installers control their audio experience using the included remote that adjusts bass enhancement levels and output volumes with the touch of a button. Users can precisely tailor their audio experience using built-in load resistor settings, seamlessly matching the requirements of OE equipment. Whether installed with a high-end OE system or a standard radio and amplifier, this technology allows users to align the characteristics for optimal sound reproduction.
Active LOCs with Bass Restoration:
Axxess's AX-BXLOC2 and AX-BXLOC2-PRO are compact 2-channel line output converters with active input circuitry, allowing them to accept speaker-level signals of up to 400 watts per channel from factory-installed source units or amplifiers. They convert them to high-quality pre-amp signals that can then be directed to aftermarket amplifiers. The AX-BXLOC2 prevents factory audio systems from regulating lower frequencies and reducing the output of bass frequencies as the volume increases. A Bass-X restoration circuit in the LOC allows users to enjoy their music as it was recorded while maintaining the use of factory volume and steering wheel controls. The AX-BXLOC2-PRO includes these features, plus a ground isolation switch, multiple turn-on modes, and built-in load resistors for use with factory radios or amplifiers that mute the audio signal when factory speakers are disconnected.
Load Resistors
Axxess's load resistors solve common problems for installers adding aftermarket equipment while providing the best possible audio signal. For example, factory audio systems in modern vehicles are designed to mute the radio and/or amplifier output should a speaker fail or get disconnected. Axxess load resistors prevent this so that installers can add aftermarket equipment. These products use specific values to allow for the best possible audio signal and safely stabilize the output of a factory audio system. The AX-LR product line is available in 20-ohm, 39-ohm, or 60-ohm options to fit a variety of vehicles, such as select late-model Dodge, Chrysler, Jeep, RAM, and Fiat models.
Vehicle-Specific Active LOC T-Harnesses
Axxess will display new active LOC T-harnesses that make it easy to add a subwoofer or a complete audio system to a variety of vehicle applications. These harnesses are designed to work with the Axxess active line output converters and are versatile enough to be compatible with most sound processors, line output converters, and amplifiers with high-level inputs. They provide convenient access to the speaker-level output signals from a factory radio, making installation easier. They provide signal connections for an audio system, including constant 12-volt (10-amp fuse), ground, and remote turn-on leads, and simplify the connection process for devices like active signal processors. These T-harnesses are easily installed by disconnecting the factory radio and connecting the two T-harness plugs. One plug connects to the radio, while the other snaps into the previously removed plug. This setup allows the radio to remain fully connected to the vehicle while providing additional wires for adding an amplifier.
These T-harnesses are equipped with mating 8-pin plugs that remain connected when installers add a subwoofer amplifier, ensuring that the factory speakers continue to receive power from the radio. On the radio side of the T-harness, there is a pre-wired speaker-level output audio signal for a dedicated subwoofer amplifier or powered subwoofer, making the installation process highly versatile and compatible with various setups. To power an aftermarket system, the wiring can be adjusted by utilizing the 8-pin connectors and harnesses for the integration of a 4-channel amplifier. These Axxess T-harnesses include the materials needed for routing the outputs of an aftermarket amplifier back through the factory wiring to reach the speakers.
Vehicle-Specific ANC Bypass Harnesses
Axxess will introduce new active noise canceling bypass harnesses designed to ensure smooth speaker and subwoofer upgrades for various vehicles with ANC audio systems at SEMA. These new harnesses maintain proper communication between audio equipment and the ANC system, giving listeners complete control over their music without sound distortion, interference, or conflict between devices. They prevent the built-in microphones within ANC systems from creating compatibility issues by mistaking aftermarket speakers and subwoofer vibrations for interference. Axxess's ANC bypass harnesses also prevent Audio system upgrades from affecting a vehicle's sensitive electronics and causing system errors.
About Metra Electronics®
At Metra, 12volt installation and integration is our passion. We strive to continuously offer the highest quality products to meet the fluctuating technological challenges of the automotive world. We actively listen to our customers' requests and invest resources in developing the highest quality dash kit and harness solutions. We make dash kits for more vehicle applications than anyone else in the world. That's why we've been known as "The Installer's Choice" ® for 75+ years. Our other brands include: Axxess®, T-SPEC®, The Install Bay®, Heise LED Lighting Systems®, iBEAM Vehicle Safety Systems®, Shuriken High Performance Batteries®, Raptor®, Ballistic®, AmmoTenna®, Metra PowerSports®, Saddle Tramp®, Metra Marine®, Daytona Lights®, and Tsunami®. For ordering information and pricing, visit Metra Electronics online at MetraOnline.com or call 386-257-2956.