Daytona LightsŪ Accent Lights Now Shipping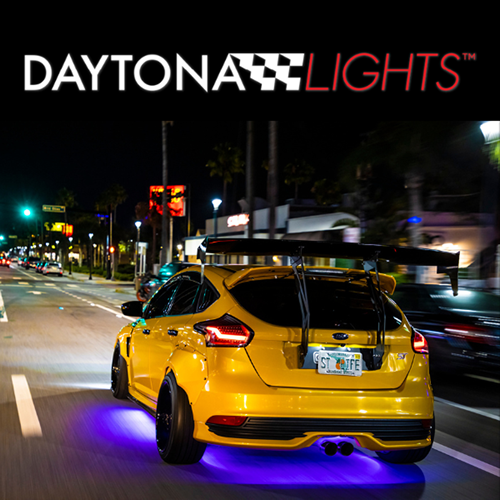 Holly Hill, Fla.
– Daytona Lights® by
Metra Electronics
®
has introduced new accent lighting products designed to provide affordable and stylish vehicle illumination that is easy to install. Now in stock and shipping are Single-Color EZ Accent Lights, Single-Color Rock Lights, and RGB LED Rock Light Kits. These products have universal vehicle fit applications and can be used inside and outside the vehicle. This makes them ideal and versatile lighting solutions for automotive lighting installers looking for an economical way to add dramatic color and illumination.
Single-Color EZ Accent Lights
Daytona Lights® EZ Accent Lights are designed to provide soft glow illumination for the interior of vehicles. They conveniently plug into the USB port for the easiest possible installation, with no tools required. These lights are sold as a set of two, with red (DL-EZAR), green (DL-EZAG), blue (DL-EZAB), or white (DL-EZAW) options. They are ideal products to feature as an eye-catching, colorful countertop display for retailers.
Daytona Lights® single-color rock lights are available in white (DL-ROCKW), green (DL-ROCKG), blue (DL-ROCKB), and red (DL-ROCKR), and are sold as a two-pack. The rock lights are rated IP67 with metal housing for a resilient lighting solution that can go inside or outside - withstanding the elements for use under the vehicle, inside wheel wells, engine bays, and more. They are easy to install with a two-wire connection and include hardware along with flat or curved mounting bases that work on a variety of surfaces. Each 3.6-watt rock light has three 2525 LEDs for an affordable but bright accent lighting solution that adds flair to any vehicle's interior or exterior.
The new rock light kits by Daytona Lights® include everything an installer needs to add brilliant, multicolored lighting to a vehicle. Each package includes four (DL-RGB4KT) or eight (DL-RGB8KT) RGB LED rock lights with 10 feet of wiring attached to each, mounting hardware, and one app-controlled RGB controller. The controller works with the free Lotus Lantern App to allow the user to control the color temperature and flashing pattern of the RGB LED lights. These competitively-priced products are designed with installers in mind, featuring easy two-wire hookups and water-resistant connectors.
All of these products are available now and shipping. Visit
MetraOnline.com
for more information.
About Metra Electronics®
At Metra, 12volt installation and integration is our passion. We strive to continuously offer the highest quality products to meet the fluctuating technological challenges of the automotive world. We actively listen to our customers' requests and invest resources in developing the highest quality dash kit and harness solutions. We make dash kits for more vehicle applications than anyone else in the world. That's why we've been known as
"The Installer's Choice"
®
for more than 75 years. Our other brands include:
Axxess®
,
T-SPEC®
,
The Install Bay®
,
Heise LED Lighting Systems®
,
iBEAM Vehicle Safety Systems®
,
Shuriken High Performance Batteries®
,
Raptor®
, Ballistic
®
,
AmmoTenna®
,
Metra PowerSports®
, Saddle Tramp
®
,
Metra Marine®
and Daytona Lights
®
. Metra's expertise in connectivity solutions is also applied to its division of premium AV and surveillance products from
MetraAV™
. For ordering information and pricing, visit Metra Electronics online at MetraOnline.com or call 386-257-2956.