Daytona LightsŪ Introduces New Lightbars and Cube Lights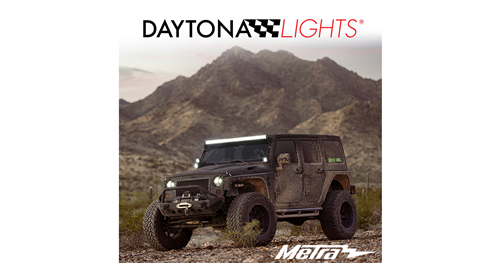 Holly Hill, Fla.
– Daytona Lights
®
by
Metra Electronics
®
has introduced new LED lighting products in an assortment of different styles and sizes, designed to provide affordable vehicle lighting that doesn't compromise performance. Now in stock and shipping are new lightbars and cube lights that provide integrators with durable and convenient options for adding nighttime visibility. These products have universal vehicle fit applications and are designed for better illumination and lighting coverage using a low current draw that doesn't drain the battery.
New Lightbars
Daytona Lights
®
has constructed their new lightbars using high-quality die-cast aluminum to provide a lightweight option that dissipates heat while standing up to the elements. They feature a military breather membrane to prevent condensation from building up behind the durable polycarbonate lens. Lightbar mounts are included with each lightbar for easy installation. They are available in Metra's Dual Row Curved (DL-DRCXX), Blackout Series Dual Row (DL-BDRXX), and Blackout Series Dual Row Curved (DL-BDRCXX) styles. Each product series includes lengths from 8 inches to 54 inches and featuring LED counts from 12 to 104 so that installers can achieve just the right look, fit and lighting intensity for each vehicle. View all of these new lightbar options at
MetraOnline.com.
New Cube Lights
Metra's new Daytona Lights
®
cube lights are constructed from die-cast aluminum to provide the same lightweight, durable and heat-dissipating benefits as their lightbars. These cubes have earned an IP67 rating and feature a durable polycarbonate lens. They are available in an assortment of styles including; Traditional Dual Row (DL-CLXX), Flush Mount (DL-FMCLXX), and Checkered Flag Series Dual Row which features a checkered texture blackout style instead of the usual chrome reflector surrounding the lens. Aside from choosing their preferred style, integrators can also select the spotlight or floodlight option. This makes these cube light sets ideal for a wide range of driving environments. They are available in compact 2.5-inch, 3-inch, or 3.6-inch sizes and with one, four or six LEDs. View all of these new cube light options at
MetraOnline.com.
Lightbar and Cube Light Product Common Features:
?
Housing Material: Die-cast aluminum
?
Membrane: Military breather
?
Lens Material: Polycarbonate
?
Hardware: Stainless steel
?
Electronics: Integrated-epoxy encapsulated
?
Operating Temperature: -40° F to 140° F
?
Protection: Reverse polarity
?
1-year limited warranty
These products and more will be on display at
KnowledgeFest
at the Orange County Convention Center in Orlando, FL from June 10-12 at booth #1001. They are in stock and shipping now, and a fully built A-frame display setup is available for retailers. Visit MetraOnline.com for more information.
About Metra Electronics®
At Metra, 12volt installation and integration is our passion. We strive to continuously offer the highest quality products to meet the fluctuating technological challenges of the automotive world. We actively listen to our customers' requests and invest resources in developing the highest quality dash kit and harness solutions. We make dash kits for more vehicle applications than anyone else in the world. That's why we've been known as
"The Installer's Choice"
®
for more than 75 years. Our other brands include:
Axxess®
,
T-SPEC®
,
The Install Bay®
,
Heise LED Lighting Systems®
,
iBEAM Vehicle Safety Systems®
,
Shuriken High Performance Batteries®
,
Raptor®
, Ballistic
®
,
AmmoTenna®
,
Metra PowerSports®
, Saddle Tramp
®
,
Metra Marine®
and Daytona Lights
®
. Metra's expertise in connectivity solutions is also applied to its division of premium AV and surveillance products from
MetraAV™
. For ordering information and pricing, visit Metra Electronics online at MetraOnline.com or call 386-257-2956.