Heise LED to Debut New Vehicle Lighting at SEMA 2023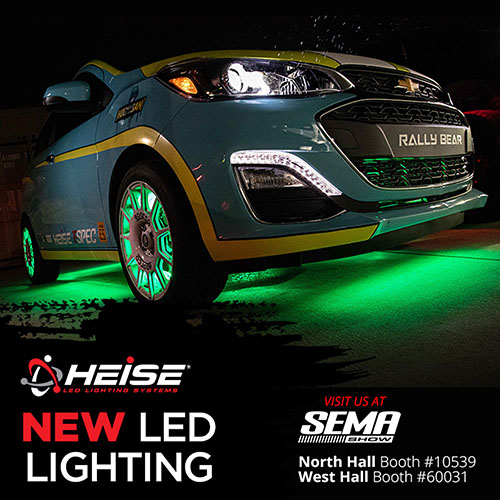 Holly Hill, Fla.
–
Heise LED Lighting Systems
®
by
Metra Electronics
®
is bringing an assortment of new RGB, RGBW, and Chasing vehicle lighting to SEMA 2023. On display will be innovative accent lighting kits, single expandable wheel rings, rock light expansion packs, a variety of chasing LED tubes, low voltage chasing extension cables, and more. These products will be showcased from October 31 through November 3 at the Las Vegas Convention Center in Las Vegas, Nevada, and include:
Chasing Accent Lighting Kits
Heise LED is introducing three new accent lighting kits to add brilliant LEDs to vehicles. They are displaying a kit to illuminate truck beds, a kit to add backlighting to vehicle front grilles, and a kit that dramatically illuminates both the front and rear interior footwells. The new chasing LED Truck Bed Lighting Kit (HE-CHASE-BED)??, Grille Lighting Kit (HE-CHASE-GRILLE), and Interior Lighting Kit (HE-CHASE-INT) each come with a Heise Connect chasing controller and include all the chasing LED tubes, cables, and hardware needed for easy installation.
Single RGB, RGBW, and Chasing Expandable Wheel Rings
Heise LED will also display new single expandable wheel rings available in RGB, RGBW, and chasing options that make it easy to replace a damaged wheel ring or enhance a lighting system by illuminating a vehicle's mounted spare tire. There are two new sets for each LED lighting option with wheel rings that expand from either 11-inch to 14-inch or 15-inch to 18-inch in size. A split ring design makes it easy to assemble and adjust the aluminum wheel rings to fit the wheel's diameter. Each kit includes two aluminum expandable wheel ring segments, a cuttable LED strip, a 10-foot extension cable, a Y adapter, thread lock, mounting brackets, and hardware.
Rock Light Expansion Packs
New rock light expansion packs that quickly and easily expand a vehicle's Heise LED lighting system or replace damaged rock lights will be displayed. These kits are available in RGB, RGBW, or chasing options and can be paired with virtually any Heise LED product. They include four daisy-chainable rock lights, four curved rubber-covered mounting bases, four 10-foot extension cables, and a drill template. These lights can be paired with their respective RGB, RGBW, or chasing Heise Connect controller, sold separately.
Chasing LED Tubes
Also on display will be new chasing LED tubes that installers can use to customize the LED lighting system on any vehicle or easily replace a damaged light with the correct size chasing LED Tube. These lights have both an input and output to be used anywhere in a chasing daisy chain of lights and are available in 9-inch (HE-CHASE-T9), 12-inch (HE-CHASE-T12), 18-inch (HE-CHASE-T18), 28-inch (HE-CHASE-T28), and 48-inch (HE-CHASE-T48) lengths.
Heise Connect Low Voltage Chasing Extension Cables
SEMA attendees will also learn about new low-voltage chasing extension cables designed for integration with the Heise Connect low-voltage chasing controller (HE-CHASELV-CB). These cables provide flexibility and convenience, allowing installers to extend and expand their illumination possibilities like never before. These cables, available in 2-foot (HE-CLV-2EXT), 4-foot (HE-CLV-4EXT), and 10-foot (HE-CLV-10EXT) lengths, make it easy to extend chasing LED lighting to every corner of a vehicle to illuminate everything from the undercarriage to the interior to the engine bay. They are constructed from high-quality materials to ensure reliable power distribution, a stable connection, and long-lasting performance. Heise LED is also introducing a new 6-inch low voltage chasing Y adapter (HE-CLV-Y) that allows installers to create intricate and elaborate lighting setups by effortlessly splitting a daisy chain of multiple lighting components for versatile customization.
Wheel Ring Backbone Y Harness Sets
Heise LED will also debut new RGB (HE-RGB-WWH), RGBW (HE-RGBW-WWH), and chasing (HE-CHASE-WWH) wheel ring backbone Y harness sets at the SEMA show designed to help maintain LED lighting systems and keep them operating at peak performance. These sets include left and right harnesses and let installers replace damaged cables without purchasing a new lighting kit. The harnesses can also be used to design a custom lighting system by connecting rock lights or other devices.
Heise Connect Controller RF Remote
Another new item that Heise LED will introduce for 2023 is an RF remote that works with all Heise Connect controllers to operate RGB, RGBW, or chasing lighting systems. This will serve as a replacement for lost or damaged controller remotes and will also act as a secondary remote for users who wish to have a backup or have more than one person control a vehicle's LED lights at the same time.
These new products work cohesively with all Heise RGB, RGBW, or chasing LED lighting, respectively, as part of the Heise Connect Universe (HCU). When connected to Heise Connect RGB, RGBW, or chasing controllers, they can be controlled via the Heise Connect app, available for download on smartphones and tablets. The app features a selectable color wheel that lets users choose from 16 million RGB color options, and a true white light color option is available with RGBW products. Users can also select from 24 pre-programmed patterns for RGB and RGBW and 170+ pre-programmed moving patterns for Chasing. A DIY pattern option can be chosen for chasing products, allowing for selecting up to 16 colors and 3 motion effects. The app also features independent left and right turn signal triggers, a brake trigger, and a music sync function.
Metra's main SEMA Show booth will be #10539 in the North Hall, and its off-roading and powersports products will be displayed at booth #60031 in the West Hall. More product details are available at
MetraOnline.com
.
About Metra Electronics®
At Metra, 12volt installation and integration is our passion. We strive to continuously offer the highest quality products to meet the fluctuating technological challenges of the automotive world. We actively listen to our customers' requests and invest resources in developing the highest quality dash kit and harness solutions. We make dash kits for more vehicle applications than anyone else in the world. That's why we've been known as "The Installer's Choice" ® for 75+ years. Our other brands include: Axxess®, T-SPEC®, The Install Bay®, Heise LED Lighting Systems®, iBEAM Vehicle Safety Systems®, Shuriken High Performance Batteries®, Raptor®, Ballistic®, AmmoTenna®, Metra PowerSports®, Saddle Tramp®, Metra Marine®, Daytona Lights®, and Tsunami®. For ordering information and pricing, visit Metra Electronics online at MetraOnline.com or call 386-257-2956.