Heise LED to Introduce New Ambient Lighting at SEMA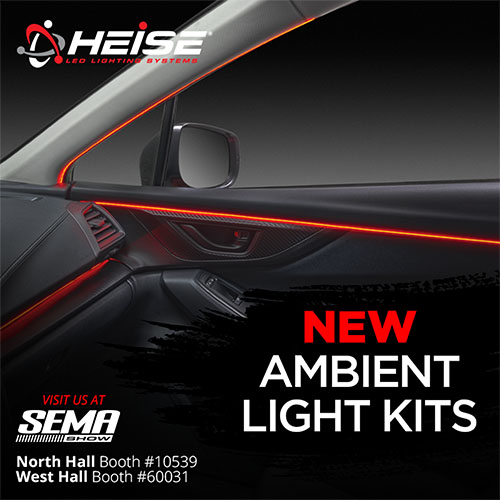 Holly Hill, Fla.
–
Heise LED Lighting Systems
®
by
Metra Electronics
®
is bringing new ambient lighting kits to SEMA 2023. A new 18-piece chasing interior ambient lighting kit, a chasing LED ambient door lighting kit, and a chasing LED ambient dash lighting kit will be showcased from October 31 through November 3 at the Las Vegas Convention Center in Las Vegas, Nevada. Metra's main SEMA Show booth will be #10539 in the North Hall, and its off-roading and powersports products will be on display at booth #60031 in the West Hall.
Chasing Interior Ambient Lighting Kit
The 18-piece HE-AMB-CAR is a complete chasing ambient lighting kit that includes everything installers need to transform the interior of any car from ordinary to extraordinary. Ambient LED lighting for the dash, footwells, door handles, door pockets, and doors is included, surpassing that of luxury cars on the market, and the chasing patterns create a fun sci-fi effect. Additionally, a new reverse/door trigger function is activated by connecting the trigger to the door circuit. This option switches the entire kit to a solid white display when one of the vehicle's doors is opened and resumes a chasing display once the door closes. This kit includes five Heise Connect chasing controllers that can easily be grouped within the free downloadable Heise Connect app for smartphones and tablets. One controller is installed in the dash and connects to the two dash strips and the four footwell lights. The remaining four controllers are installed within each of the vehicle's doors and connect to the door's LED strip, handle accent light, and pocket light. Using five controllers makes installation easier and faster than running multiple extension cables through the door boots.
Chasing LED Ambient Door Lighting Kit
Installers can add ambient lighting along the interior contours of any vehicle's doors with the HE-AMB-2DR two-door kit. This kit includes two 2.5-foot chasing LED ambient mini strips, two chasing Heise Connect controllers, and two RF remotes. It is designed to add lighting accents to door panels reminiscent of modern luxury vehicles. A controller is included for each door for simplified installation.
Chasing LED Ambient Dash Lighting Kit
The HE-AMB-2KT quickly and easily adds brilliant ambient lighting along the contours of any vehicle's interior. This kit includes two chasing LED mini strips, a chasing Heise Connect controller, and an RF remote. Each light strip has an ultra-dense LED configuration that creates fluid motion and is controlled via the free downloadable Heise Connect mobile app for smart devices.
The HE-CHASE-CB Heise Connect chasing controller featured in these new ambient lighting kits is specifically designed to work with Heise Chasing LEDs, making customization and control of these products effortless. It features two wireless control options; an included remote control or via the Heise Connect downloadable app for smartphones or tablets. Users can easily group multiple controllers through the app, and every controller has left and right zones for independent turn signal control wires and a dedicated brake light trigger wire. This product works with all Heise LED Chasing products. It can be controlled via the Heise Connect App, which allows users to remotely control Heise LED lighting products from the palm of their hand.
The Heise Connect app automatically connects via Bluetooth® wireless technology and detects the type of control box connected to the app, RGB, RGBW, or Chasing, allowing groups of all products to be used and controlled within the same mobile app. For chasing Heise LED products such as the new ambient LED kits, users can select from 170+ pre-programmed moving patterns. There is also a DIY chasing pattern option that allows for selecting up to 16 colors and 3 motion effects. The app also features independent left and right turn signal triggers, a brake trigger, and a music sync function.
More product information and details will be available at
HeiseLED.com
soon after the SEMA show.
About Metra Electronics®
At Metra, 12volt installation and integration is our passion. We strive to continuously offer the highest quality products to meet the fluctuating technological challenges of the automotive world. We actively listen to our customers' requests and invest resources in developing the highest quality dash kit and harness solutions. We make dash kits for more vehicle applications than anyone else in the world. That's why we've been known as "The Installer's Choice" ® for 75+ years. Our other brands include: Axxess®, T-SPEC®, The Install Bay®, Heise LED Lighting Systems®, iBEAM Vehicle Safety Systems®, Shuriken High Performance Batteries®, Raptor®, Ballistic®, AmmoTenna®, Metra PowerSports®, Saddle Tramp®, Metra Marine®, Daytona Lights®, and Tsunami®. For ordering information and pricing, visit Metra Electronics online at MetraOnline.com or call 386-257-2956.