Heise LED Introduces New Lighting at SEMA 2022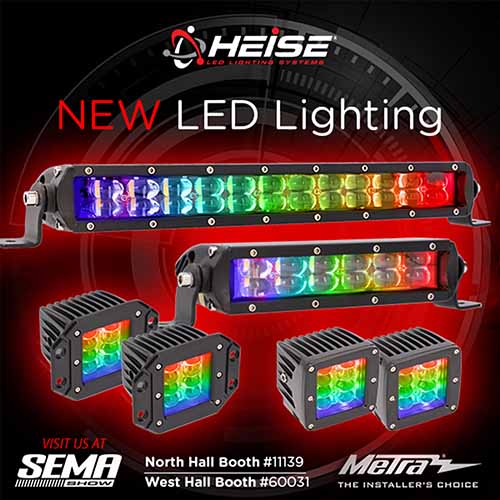 Holly Hill, Fla.
–
Heise LED Lighting Systems
®
by
Metra Electronics
®
is bringing an assortment of new RGB, RGBW, and Chasing LED vehicle lighting to SEMA 2022. On display will be innovative Expandable Wheel Rings, newly designed Cube Lights, Sequential Tailgate Bars, Wide Angle Rock Lights, a 5-Meter Chasing LED Strip Light Kit, and more. These products will be showcased November 1st-4th at the Las Vegas Convention Center and feature:
Expandable Wheel Rings
Heise LED's new expandable wheel rings are available in RGB, RGBW, and Chasing options. Their revolutionary patent-pending design makes it easy to add brilliant LED lighting to the wheels of any vehicle. There are two new kits for each LED lighting option with wheel rings that expand from either 11" to 14" or 15" to 18" in size. The kits include four aluminum expandable wheel rings, cuttable LED strips, mounting brackets and hardware, two backbone harnesses for the left and right sides of the vehicle, a Heise Connect controller, an RF remote, and thread lock.
Cube Lights
Also on display will be two new Chasing LED cube lights and new Blackout Series 140o cubes that are constructed from die-cast aluminum, are water-resistant, and feature a durable polycarbonate lens. The Chasing LED Cube Lights are available in flush mount (HE-CHASE-FCLKT) or standard mount (HE-CHASE-CLKT) styles. They connect to the Heise Connect Chasing Controller and can be remotely controlled using the Heise Connect mobile app to choose from 170+ pre-programmed moving patterns, independent left and right turn signal triggers, a brake trigger, a music sync function, and more. The Blackout Series cube lights (HE-BC1402PK) feature refined frames and clean lines for a sleek yet minimalistic look. Upgraded optics provide indirect placement allowing more control of the location and pattern of the beam. A hybrid flood and spot beam pattern combination provides full visibility.
Rock Lights
Heise will also display RGB, RGBW, and Chasing Wide Angle Rock Lights. Each light has an improved output angle over traditional rock lights. These lights will be available individually or in kits that include four or eight rock lights along with a Heise Connect Controller and mounting bases. The kits offer 170+ pre-programmed chasing patterns, 24 RGB/RGBW patterns, are daisy-chainable, and are controlled via the Heise Connect mobile app.
Chasing LED Lightbars
Also at Metra's SEMA booth will be new Chasing LED lightbars in 8" (HE-CHASE-B8), 12" (HE-CHASE-B12), 22" (HE-CHASE-B22), or 32" (HE-CHASE-B32) lengths. These single-row lightbars are constructed of high-quality die-cast aluminum with a sealed membrane to prevent infiltration of debris and a durable polycarbonate lens. Each lightbar illuminates with a mixture of white LEDs and addressable Chasing LEDs to provide a spot beam pattern with a 120o angle. These products come with a Heise Connect Chasing Controller and can be remotely controlled using the Heise Connect mobile app.
5-Meter Chasing LED Strip Light Kit
The new HE-CHASE-5MChasing lighting strips are five meters long and feature a 3M double-sided backing. They are IP65-rated to be water-resistant. They feature addressable LEDs so that they can be individually controlled for personalized colors, chasing lighting patterns, and more via a mobile smartphone app when paired with the included Heise Connect controller.
Sequential Tailgate Lightbars
Heise LED will also debut new 48" (HE-STGB48) and 60" (HE-STGB60) Sequential LED Tailgate Lightbars. These products have eye-catching left and right sequential turn signals and running, brake, and reverse lighting functionality. They have highly concentrated LEDs for seamless lighting with no dark spots, are IP67-rated, and are sealed to prevent moisture or dust from infiltrating behind the lens.
Along with these products, Heise will present new Chasing "Y" Adapters and Chasing Extension Cables in 2ft and 4ft lengths that work with the new Heise Connect Controller and make installation of their LED lighting easier.
Metra will have two booths at the 2022 SEMA Show; the manufacturer's main booth will be #11139 in the North Hall, and its off-roading and powersports products will be on display at booth #60031 in the West Hall. More product details will be available at
HeiseLED.com
soon after the show.
About Metra Electronics®
At Metra, 12volt installation and integration is our passion. We strive to continuously offer the highest quality products to meet the fluctuating technological challenges of the automotive world. We actively listen to our customers' requests and invest resources in developing the highest quality dash kit and harness solutions. We make dash kits for more vehicle applications than anyone else in the world. That's why we've been known as "The Installer's Choice" ® for more than 75 years. Our other brands include:
Axxess®
,
T-SPEC®
,
The Install Bay®
,
Heise LED Lighting Systems®
,
iBEAM Vehicle Safety Systems®
,
Shuriken High Performance Batteries®
,
Raptor®
, Ballistic®,
AmmoTenna®
,
Metra PowerSports®
, Saddle Tramp®,
Metra Marine®
and Daytona Lights®. Metra's expertise in connectivity solutions is also applied to its division of premium AV and surveillance products from
MetraAV™
. For ordering information and pricing, visit Metra Electronics online at MetraOnline.com or call 386-257-2956.