Install Bay to Display Professional 12volt Installation Products at SEMA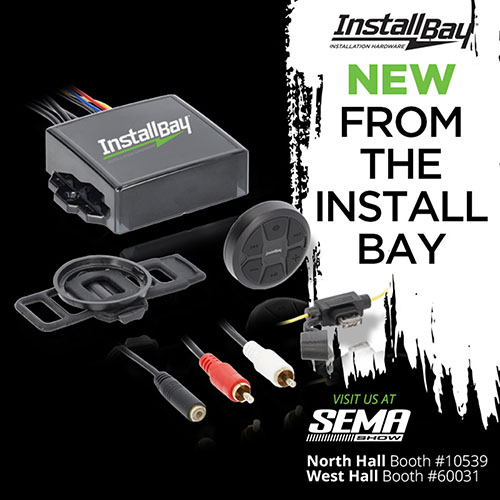 Holly Hill, FL
–
Install Bay
®
by
Metra Electronics
®
is expanding its comprehensive collection of professional 12volt installation products with new single-zone and three-zone controllers with
Bluetooth®
wireless technology, micro line output converters, replacement socket kits in various sizes, connectors, fuse holders, and much more. These products are designed using the best available materials to ensure ease of use and years of reliability. They will be displayed from October 31 through November 3 at the Las Vegas Convention Center in Las Vegas, Nevada. Metra's main SEMA Show booth will be #10539 in the North Hall, and its off-roading and powersports products will be on display at booth #60031 in the West Hall.
Single Zone Controller with Bluetooth® Wireless Technology and Remote
The IBBTR18 is an easy-to-install controller with Bluetooth® wireless technology and a wireless remote that puts audio controls at a user's fingertips. It is equipped with built-in connectivity and auxiliary input, and its compact size makes it easy to conceal. A high-quality internal digital signal processor produces lossless audio output to the sound system. The controller is small enough to mount to a steering wheel easily and is rated IPX7, making it ideal for marine and powersports applications.
3-Zone Controller with Bluetooth® Wireless Technology
The IBBTR19 controller shares the same features as the IBBTR18, but it allows users to control the volume independently for three zones or simultaneously on the primary setting. An LED backlight on the remote indicates which zone is active. The controller is equipped with built-in connectivity with Bluetooth® technology and auxiliary input. This 3-zone controller supports APTX-HD, APTX, APTX-X Low Latency, SBC, and ACC audio formats.
Micro Line Output Converters
Install Bay will introduce two ultra-compact LOCs at Metra's SEMA booth; a 2-channel, the IBMLOC2, and a 4-channel, the IBMLOC4. These new micro LOCs allow car audio installers to add an amplifier to nearly any radio, so their customers can experience true sound accuracy at any volume level with all the highs and lows of the original audio. Unlike traditional LOCs, these devices are designed without inductors to deliver a flat 20Hz-20kHz frequency response at all volume levels. Using factory speaker wires, these innovative micro LOCs automatically convert the speaker signal into both an RCA signal and a 100-milli-amp 12-volt remote wire using DC offset. With the ability to turn on multiple amplifiers, their 12-volt remote wires deliver plenty of power without requiring switched 12-volt power sources. These LOCs accept up to 80 watts (20 volts) of input signal and deliver up to 10-volt output signal. The OEM smart radios in today's vehicles have a built-in protection circuit that will shut off or distort audio on one or more channels if the load on the OEM radio exceeds a specific impedance range. These LOCs feature built-in 60-ohm load resistors for those OE radios.
Replacement Sockets
An assortment of convenient new 6-point socket replacement packs will be of interest to SEMA attendees who are familiar with the frustration of misplacing their sockets. These sockets will come in a wide range of sizes, including 7mm, 8mm, and 10mm in 3/8 drive or 1/4 drive. Each size has short or deep options and will be available in 5-packs. Install Bay will also offer 5-packs of magnetic 1/4 sockets in the same size and replacement #2 Phillips bits.
With the convenience of these replacement sockets and Phillips bits, installers will avoid the hassle of incomplete tool sets or searching for missing components while completing a project.
Metra's SEMA booth will also include various cables from The Install Bay, a 20-piece radio removal tool set, and installation accessories such as fuse holders, connectors, spooled wire, and more. Additional product information is available at
theInstallBay.com
.
The Bluetooth® word mark and logos are registered trademarks owned by Bluetooth SIG, Inc., and any use of such marks by Metra Electronics is under license. Other trademarks and trade names are those of their respective owners.
About Metra Electronics®
At Metra, 12volt installation and integration is our passion. We strive to continuously offer the highest quality products to meet the fluctuating technological challenges of the automotive world. We actively listen to our customers' requests and invest resources in developing the highest quality dash kit and harness solutions. We make dash kits for more vehicle applications than anyone else in the world. That's why we've been known as "The Installer's Choice" for 75+ years. Our other brands include: Axxess®, T-SPEC®, The Install Bay®, Heise LED Lighting Systems®, iBEAM Vehicle Safety Systems®, Shuriken High Performance Batteries®, Raptor®, Ballistic®, AmmoTenna®, Metra PowerSports®, Saddle Tramp®, Metra Marine®, Daytona Lights®, and Tsunami®. For ordering information and pricing, visit Metra Electronics online at MetraOnline.com or call 386-257-2956.