Metra Brings New Dash Kits to SEMA 2022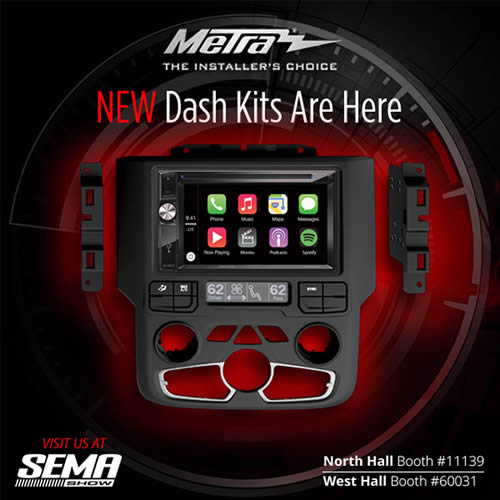 Holly Hill, Fla. –Metra Electronics®, the leading manufacturer of aftermarket automotive solutions, is launching an assortment of new dash kits at the 2022 SEMA Show. These new products fit a wide range of vehicles, and expand on Metra's TurboTactileTM, TurboTouch®, and TouchTronix® lines. Additionally, Metra has designed several new dash kits designed specifically for select Pioneer® Modular Solutions receivers. Metra's new products include vehicle-specific dash and stereo solutions designed to fit the following vehicles*:
? RAM 1500/2500/3500 & Chassis CAB 3500/4500/5500 2013-2018, Classic 1500 2019-2022
? Ford Explorer 2011-2015, Edge 2011-2014, F-150 2015-2017, Mustang 2015-Up, Transit Connect 2021-Up,and Escape 2020-Up
? Toyota Camry 2021-Up and 4Runner 2010-Up
? Honda Pilot 2016-2022, Ridgeline 2017-2022 and Passport 2019-2022
* Visit MetraOnline.com for up-to-date vehicle specific information
Metra's TurboTactile™ kits feature easy-to-use rotary knobs with LCD status displays for temperature and fan speed. Additional factory-style hard buttons have laser-etched graphics to adjust the factory single-zone climate control systems. The buttons control features that are normally lost after removing the factory radio. Metra's built-in patented interface technology retains climate control, safety, and steering wheel control features. The vehicle's hazard button and passenger airbag indicator are also integrated into the kit. These kits are painted to match the factory finish and include installation parts for both Single-DIN and Double-DIN aftermarket radio installations.
TurboTouch® kits feature built-in touchscreens paired with hard buttons and integrated electronics to retain most of the features normally lost when replacing the factory radio. The color touchscreen shows climate and personalization settings, adding a high-tech look and feel to the dashboard. The
backlit hard buttons can be customized with 250 different color options. These dash kits fit either a Single-DIN or Double-DIN radio and make stereo installation easier. Included wiring harnesses and interfaces ensure factory backup cameras will work on the new screens, and retain the use of steering wheel controls.
Metra's TouchTronix® kits are designed with a combination of Metra's interfacing technology to retain the factory climate control features and sleek laser-etched hard buttons. The fan speed and mode are shown on a custom-fitted, painted, and laser etched plastic kit with PCB-driven LED lighting. An Axxess® AXSWC is included to retain the factory steering wheel controls as well as the parts to retain the factory backup camera if equipped. These TouchTronix kits provide an upgraded look while maintaining the vehicle's intended factory style.
Other new products include kits that combine elements from the TurboTactile™ and TurboTouch® kits to create a hybrid product with the best of both worlds, and new options from Metra's AXPIO line designed specifically for select Pioneer® receivers. AXPIO solutions kits include an interface, vehicle-specific harnessing, a dash kit, and more. Vehicle information and settings controlled on the factory screen are retained, displayed, and controlled on the Pioneer® touchscreen. The built-in integration technology from Axxess also retains safety chimes through an offboard speaker, retains audio controls on the steering wheel, retains R.A.P. (Retained Accessory Power), and provides accessory power (12-volt-10-amp) and NAV output for parking brake, reverse, and speed sense.
All of these new dash kits are available now and will be on display at Metra's main SEMA Show booth #11139 in the North Hall of the Las Vegas Convention Center November 1st-4th, along with other new products.
About Metra Electronics®
At Metra, 12volt installation and integration is our passion. We strive to continuously offer the highest quality products to meet the fluctuating technological challenges of the automotive world. We actively listen to our customers' requests and invest resources in developing the highest quality dash kit and harness solutions. We make dash kits for more vehicle applications than anyone else in the world. That's why we've been known as "The Installer's Choice" ® for more than 75 years. Our other brands include: Axxess®, T-SPEC®, The Install Bay®, Heise LED Lighting Systems®, iBEAM Vehicle Safety Systems®, Shuriken High Performance Batteries®, Raptor®, Ballistic®, AmmoTenna®, Metra PowerSports®, Saddle Tramp®, Metra Marine® and Daytona Lights®. Metra's expertise in connectivity solutions is also applied to its division of premium AV and surveillance products from MetraAV™. For ordering information and pricing, visit Metra Electronics online at MetraOnline.com or call 386-257-2956.