Metra Electronics® Introduces Mounted Spare Tire Accessories at SEMA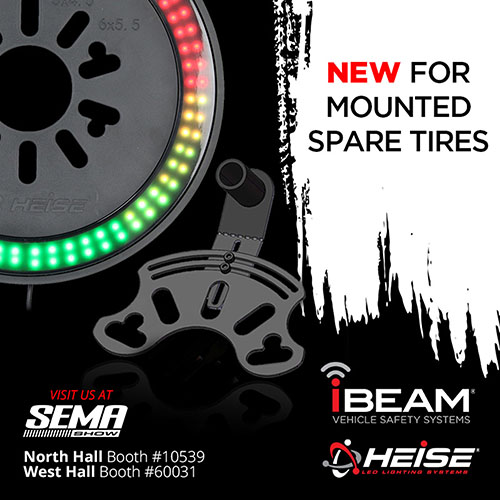 Holly Hill, Fla.
–
Metra Electronics
®
has developed two new kits designed to elevate a vehicle's mounted spare tire; a new chasing light kit and an adjustable camera kit. They will debut them at this year's SEMA show. These kits boast over 200 vehicle applications, including select Jeep
®
, Ford, Toyota, Honda, Isuzu, Suzuki, and Land Rover vehicles.* This versatility is thanks to their included multi-adjustable brackets specifically designed to mount securely to the factory studs of spare wheels, fitting numerous bolt patterns. These new kits will be displayed from October 31 through November 3 at the Las Vegas Convention Center in Las Vegas, Nevada. Metra's main SEMA Show booth will be #10539 in the North Hall, and its off-roading and powersports products will be on display at booth #60031 in the West Hall.
Chasing Spare Tire Light Kit
The HE-CHASE-STL chasing spare tire light from Metra's
Heise LED Lighting Systems
®
brand is equipped with dual-row, dual-zone, addressable LEDs to add vibrant, colorful lighting to a vehicle's mounted spare tire. This kit includes two 8-foot extension cables, left and right half-circle LED segments, installation hardware, and a Heise Connect chasing controller (HE-CHASE-CB). It works cohesively with all Heise chasing LED lighting as part of the Heise Connect Universe (HCU) and is controlled using the included RF remote or the Heise Connect app, available for download on smartphones and tablets. This spare tire light will not only add style to a vehicle but will improve awareness for nearby vehicles and increase safety with its included turn signal, brake, and reverse functions.
The HE-CHASE-CB Heise Connect chasing controller featured in this kit is specifically designed to work with Heise chasing LEDs, making customization and control of these products effortless. Users can easily group multiple controllers through the app, and every controller has left and right zones for independent turn signal control wires and a dedicated brake light trigger wire. The Heise Connect app automatically connects via Bluetooth® wireless technology and allows users to select from 170+ pre-programmed moving patterns, a DIY chasing pattern option that allows selection of up to 16 colors and 3 motion effects, and a music sync function.
Adjustable Spare Tire Camera Kit
The TE-ASTCAM adjustable spare tire camera kit from Metra's
iBEAM
brand upgrades a vehicle's safety and parking functionality. This camera setup is designed to provide drivers with a clear view of their surroundings while parking or reversing, offering the ultimate solution for enhancing a vehicle's safety and maneuverability. The kit includes a multi-adjustable bracket, high-quality camera, and wiring to ensure a hassle-free installation. The versatile bracket of the TE-ASTCAM offers an impressive range of adjustability, allowing drivers to position the camera exactly where they need it. The bracket's camera stem can be adjusted both side-to-side and up and down, providing drivers with optimal flexibility and customization options. Additionally, the head of the bracket is bendable to achieve the perfect angle adjustment for each unique vehicle.
Equipped with high-quality metal housing, the included camera delivers durability and longevity. Its 170-degree field of diagonal view ensures a wide coverage area, minimizing blind spots and providing a comprehensive perspective of the vehicle's surroundings. The camera also features parking guidelines, enabling drivers to gauge distances and maneuver their vehicle accurately. With an IP67 rating, this camera is designed to withstand inclement weather, ensuring reliable performance even in challenging environments. Additionally, the TE-ASTCAM boasts excellent low-light capabilities with its 0.6 LUX night vision, allowing drivers to navigate safely in dimly lit areas or during nighttime parking. For a convenient power connection via the taillight, adding iBEAM's Pulse Width Modulation Stabilizer (TE-CAMFLTR) is recommended (sold separately). This accessory ensures a reliable and efficient power supply to the camera, further enhancing its functionality.
More product information and details will be available at
MetraOnline.com
soon after the SEMA show.
*Visit our Vehicle Fit Guide at
MetraOnline.com
for up-to-date vehicle-specific applications.
About Metra Electronics®
At Metra, 12volt installation and integration is our passion. We strive to continuously offer the highest quality products to meet the fluctuating technological challenges of the automotive world. We actively listen to our customers' requests and invest resources in developing the highest quality dash kit and harness solutions. We make dash kits for more vehicle applications than anyone else in the world. That's why we've been known as "The Installer's Choice" ® for 75+ years. Our other brands include: Axxess®, T-SPEC®, The Install Bay®, Heise LED Lighting Systems®, iBEAM Vehicle Safety Systems®, Shuriken High Performance Batteries®, Raptor®, Ballistic®, AmmoTenna®, Metra PowerSports®, Saddle Tramp®, Metra Marine®, Daytona Lights®, and Tsunami®. For ordering information and pricing, visit Metra Electronics online at MetraOnline.com or call 386-257-2956.