Metra Electronics® Launches New Products for Ford Bronco at SEMA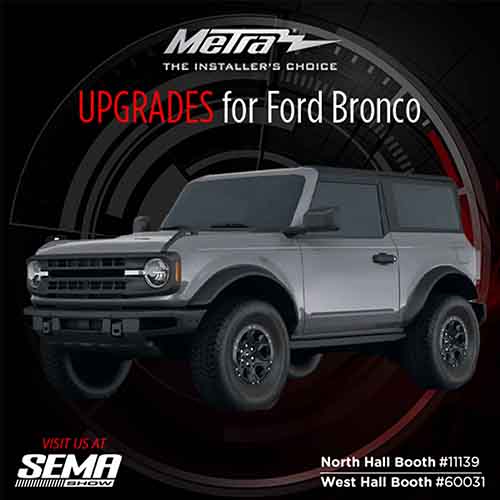 Holly Hill, Fla.
–
Metra Electronics
®
is introducing new products designed to fit select Ford Broncos at the 2022 SEMA Show. The manufacturer has launched its collection of Bronco accessories by adding Lighting Brackets with features such as a corrosion-resistant black powder-coated finish and plastic covers that conceal the mounting hardware. Metra will also showcase new aftermarket audio accessories such as a Dash-Mount Tweeter Plate, Speaker Harnesses, and a Kick Panel Speaker Adapter Plate. In addition, they will introduce patent-pending Rear Speaker Pods that allow installers to easily upgrade the 4" factory rear pods to considerably larger 6.5" or 6.75" speakers. New products launching at SEMA will include:
Designed to Fit Ford Bronco 2021-Up*
?
Roof Lightbar Bracket for 50"- 52" Heise LED lightbar
?
Roof Trac Bracket for Heise LED cube lights, driving lights, or a lightbar
?
Bumper Lightbar Bracket for 42" Heise LED lightbar
?
Fog Light Bracket for installing Heise LED fog lights within the front bumper
?
Dash-Mount Tweeter Plate for installation of 2.5" dash speakers
?
Speaker Harness for left and right dash (non-B&O), center (B&O), or rear pod speakers
?
Speaker Harness for front kick panel speakers
?
Kick Panel Speaker Adapter Plate for installation of 6.5" to 6.75" kick panel speakers
?
Rear Speaker Pods to upgrade the 4" factory rear pods to 6.5" or 6.75" speakers
Fits 2012-2022 Fords, Including the New Bronco
?
Rearview Mirror T-Harness to easily connect a DVR, radar detector, security camera, aftermarket auto-dimming rearview mirror, or other devices
*Visit MetraOnline.com for up-to-date vehicle-specific applications.
These products will be showcased at the Las Vegas Convention Center at Metra's 2022 SEMA Show booths, November 1st-4th. The main booth will be #11139 in the North Hall, and its off-roading and powersports products will be on display at booth #60031 in the West Hall. More product details will be available at MetraOnline.com soon after the show.
About Metra Electronics®
At Metra, 12volt installation and integration is our passion. We strive to continuously offer the highest quality products to meet the fluctuating technological challenges of the automotive world. We actively listen to our customers' requests and invest resources in developing the highest quality dash kit and harness solutions. We make dash kits for more vehicle applications than anyone else in the world. That's why we've been known as "The Installer's Choice" ® for more than 75 years. Our other brands include:
Axxess®
,
T-SPEC®
,
The Install Bay®
,
Heise LED Lighting Systems®
,
iBEAM Vehicle Safety Systems®
,
Shuriken High Performance Batteries®
,
Raptor®
, Ballistic®,
AmmoTenna®
,
Metra PowerSports®
, Saddle Tramp®,
Metra Marine®
and Daytona Lights®. Metra's expertise in connectivity solutions is also applied to its division of premium AV and surveillance products from
MetraAV™
. For ordering information and pricing, visit Metra Electronics online at MetraOnline.com or call 386-257-2956.