Metra Electronics® Reintroduces Tsunami® Brand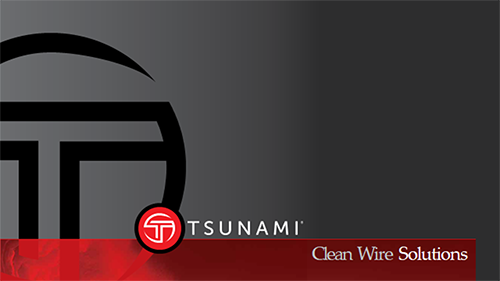 Holly Hill, Fla.
–
Metra Electronics
®
has announced the revival of their popular Tsunami® brand, to be sold exclusively to brick and mortar dealers for in-store sales only. New clean wire solutions are available now. Products from this brand will include audio connections, power, ground, and speaker wire, amp installation kits, battery terminals, distribution blocks, fuse holders, and more. Tsunami® is also offering an economy series with RCA audio cables, fuse holders, amp kits, and speaker wire that integrators will find to be a cost-effective solution for their everyday wiring needs. These new products will be serialized using unique labeling, with no online sales permitted, for better supply chain control.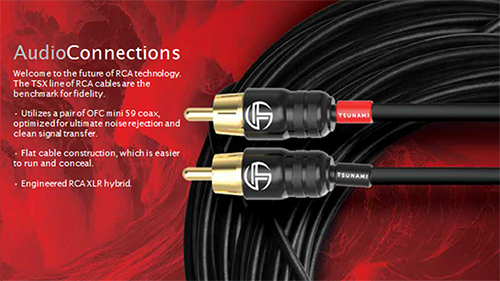 Tsunami's new TSX line of RCA cables are available in 2 ft to 21 ft and utilize a pair of OFC mini 59 coax, optimized for ultimate noise rejection and clean signal transfer. The mini 59 allows for flat cable construction, which is easier to run and conceal. "We wanted to push the boundaries of what an RCA cable is, and our engineering team went to work creating an RCA XLR hybrid. This hybrid takes the advantages of true left, right, and drain, while maintaining the transfer format of an RCA," says Jason Anderson, Metra's Vice President of Research and Development. This fusion of technology also creates a functionally directional cable that performs with crystal clarity.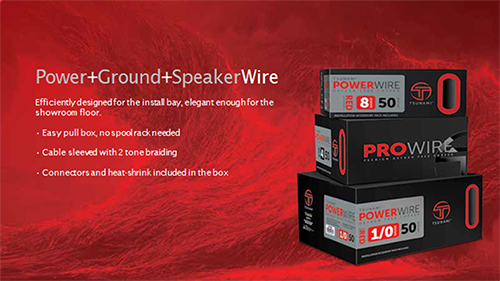 Power, Ground, and Speaker Wire
Tsunami's unique bulk wire solutions are elegant enough for the showroom floor and designed to save time in the install bay. All power, ground, and speaker wire products in this line are provided in an easy-pull box, which houses sleeved cable with 2-tone braiding. Included in the box are all of the ferrules, heat shrink, and ring terminals needed to complete the cable and to make the installation seamless. This efficient bulk wire setup is not available from any other manufacturer in the industry.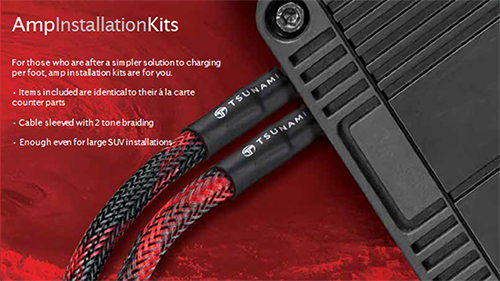 Amp installation kits are available in 8, 4, and 1/0 GA options and are designed by Tsunami to offer installers a straightforward solution in comparison to charging per foot. A single line item on the customer quote covers all the power and ground products needed for a single amplifier installation. The TSX series amp kits include 18 feet of power wire and 2 ground cables to ensure an ample amount of product, even for large SUV installations. These amp kits provide the same quality as completing the installation piecemeal, as all the items included are identical to their a la carte counterparts.
Since quality battery terminals are crucial to the longevity of an audio installation, Tsunami designed theirs with solid brass construction and T20 Torx® set screws. This ensures that maximum current can flow with minimum resistance being added to the system. Brass components are finished with satin nickel plating, improving their appearance and durability. The brand's TSX models feature a futuristic design that allows for the Tsunami logo to be placed after the part has been installed so that it can be orientated perfectly.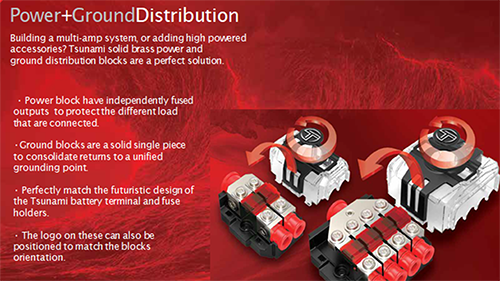 Power and Ground Distribution
Tsunami's solid brass power and ground distribution blocks are a perfect solution, whether building a multi-amp system or adding high-powered accessories. These power blocks have independently fused outputs to protect the individual loads that are connected, while the ground blocks consist of a single solid piece to consolidate returns to a unified grounding point. These products perfectly match the futuristic design of the Tsunami battery terminal and fuse holders.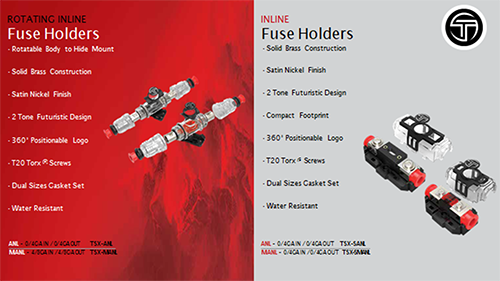 Tsunami's Inline and Rotating Inline fuse holders help build a strong, professional-looking audio system. Solid brass components with satin nickel plating create an aesthetic and durable link between an amp and the vehicle's battery. These contacts ensure high conductivity while protecting the audio system. Sturdy, impact-resistant housing protects fuses from heat and moisture and easily mounts to the vehicle. The included T20 Torx® set screws can be installed using a single tool, while the same forward-thinking design allows for perfect positioning of the Tsunami logo.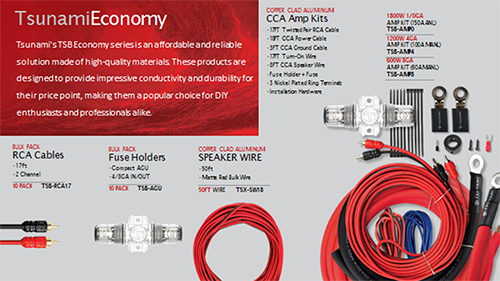 Tsunami's TSB Economy series is a more affordable solution for RCA audio cables, fuse holders, copper-clad aluminum amp kits, and speaker wire designed to provide impressive conductivity and durability for their price point, making them a popular choice.
More information on Tsunami products is available through your Metra Electronics sales representative.
About Metra Electronics®
At Metra, 12volt installation and integration is our passion. We strive to continuously offer the highest quality products to meet the fluctuating technological challenges of the automotive world. We actively listen to our customers' requests and invest resources in developing the highest quality dash kit and harness solutions. We make dash kits for more vehicle applications than anyone else in the world. That's why we've been known as "The Installer's Choice" ® for 75+ years. Our other brands include: Axxess®, T-SPEC®, The Install Bay®, Heise LED Lighting Systems®, iBEAM Vehicle Safety Systems®, Shuriken High Performance Batteries®, Raptor®, Ballistic®, AmmoTenna®, Tsunami®, Metra PowerSports®, Saddle Tramp®, Metra Marine® and Daytona Lights®. For ordering information and pricing, visit Metra Electronics online at MetraOnline.com or call 386-257-2956.