Metra Electronics® Serializes Key Products to Improve Supply Chain and Retail Price Monitoring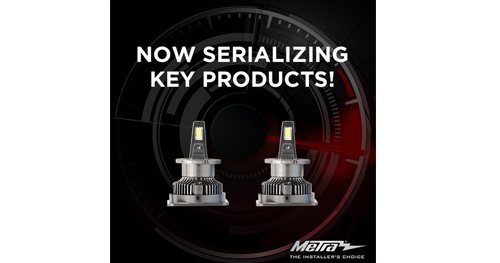 Holly Hill, Fla. – Metra Electronics® is excited to announce the launch of a serialization program for some of the manufacturer's most popular product lines. Individual batches of products will be tracked using a unique serialization process, allowing better supply chain control. The company is now serializing its popular Heise Pro Series replacement LED bulbs and will expand this process to include additional products in the near future. This is an effort to enforce the minimum advertised price (MAP) - the lowest price designated by Metra allowed to be publicly displayed for a product on sale by all distribution channels.
Products will now be traced from the moment they are manufactured, which will also prevent the potential sale of counterfeit items. According to Jake Bates, Vice President of Sales for Metra Electronics, the enforcement of the company's MAP policies and pricing standards will serve to keep the overall brand image, product quality, and reputation pristine while protecting Metra's valued customers. A simple procedure has been implemented wherein the manufacturer's team will seek out and purchase products online that fall outside the specified parameters in order to identify the seller. The seller will then be contacted by a Metra representative and provided an opportunity to correct their pricing.
This new process will help ensure consistency across all channels of distribution. In addition, Metra has established a price sheet with MSRP and MAP, made available by Metra salespersons. MSRP for each product is also displayed on the company's website, MetraOnline.com.
About Metra Electronics®
At Metra, 12volt installation and integration is our passion. We strive to continuously offer the highest quality products to meet the fluctuating technological challenges of the automotive world. We actively listen to our customers' requests and invest resources in developing the highest quality dash kit and harness solutions. We make dash kits for more vehicle applications than anyone else in the world. That's why we've been known as "The Installer's Choice" ® for 75+ years. Our other brands include: Axxess®, T-SPEC®, The Install Bay®, Heise LED Lighting Systems®, iBEAM Vehicle Safety Systems®, Shuriken High Performance Batteries®, Raptor®, Ballistic®, AmmoTenna®, Metra PowerSports®, Saddle Tramp®, Metra Marine® and Daytona Lights®. For ordering information and pricing, visit Metra Electronics online at MetraOnline.com or call 386-257-2956.