Metra Electronics® to Unveil Over 100 Products at SEMA 2022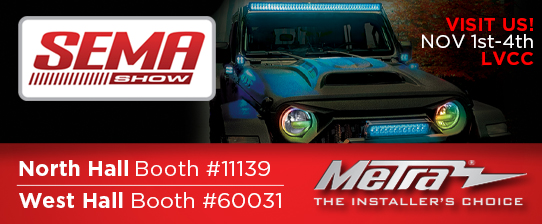 Holly Hill, Fla.
–
Metra Electronics
®
announces that it will have two booths at the 2022 SEMA Show, November 1st-4th at the Las Vegas Convention Center; booth #11139 in the North Hall and its off-roading and powersports products on display at booth #60031 in the West Hall. Metra has supported SEMA throughout its virtual events and other safety protocols because the trade show is so vital to 12 volt and other industries. This year will mark a return to pre-pandemic attendance for the SEMA show, and the manufacturer is looking forward to welcoming a larger number of 12 volt enthusiasts to their booths than they've seen in the past two years.
Metra Electronics is planning big surprises for this year's SEMA show. The manufacturer will unveil a new brand developed under the Metra Electronics umbrella, focusing on offering high-quality products that every installer needs when designing flexible audio systems. Additionally, more than 100 new products will be introduced, including a new line of lithium series batteries under its Shuriken brand. These batteries are designed for numerous applications, including audio, motorcycle, marine, auto racing, powersports, and more. Also, Heise LED will introduce three new controllers that will work with an all-new mobile app for smartphones and tablets to allow users to control Heise RGB, RGBW, and Chasing lighting products all from one app. The brand will also display new LED wheel lights, rock lights, tailgate bars, lightbars, and more in an assortment of exciting new styles.
Metra continues to push forward with the development of new dash kits that, when combined with their radio replacement interfaces from Axxess, bring new vehicle fit applications to the market. An assortment of their newest additions to this product line will be unveiled at SEMA, with many more planned for the future. Metra will also showcase next-generation DSP products, new accessories for Ford Bronco® and Jeep®, and several new innovations from iBEAM Vehicle Safety Systems. The iBEAM display will include vehicle-specific rearview mirror T-harnesses, a Universal Streaming Rearview Mirror with a built-in 9" Monitor, and more.
Also to be featured are motorcycle audio and lighting products from Saddle Tramp, including headlights, LED accent lighting, saddlebag lids, keystone lights, and more. Metra's Install Bay brand will also be on display as it continues to add to its comprehensive collection of professional 12 volt installation products with new connectors, terminals, fuses, cable ties, switches, relays, and more. These products are designed using the best available materials and construction to ensure ease of use and years of reliability. Additional product announcements will be released leading up to the show with more details, and new product catalogs will be available to download at MetraOnline.com shortly after the event.
About Metra Electronics®
At Metra, 12volt installation and integration is our passion. We strive to continuously offer the highest quality products to meet the fluctuating technological challenges of the automotive world. We actively listen to our customers' requests and invest resources in developing the highest quality dash kit and harness solutions. We make dash kits for more vehicle applications than anyone else in the world. That's why we've been known as
"The Installer's Choice"
®
for more than 75 years. Our other brands include:
Axxess®
,
T-SPEC®
,
The Install Bay®
,
Heise LED Lighting Systems®
,
iBEAM Vehicle Safety Systems®
,
Shuriken High Performance Batteries®
,
Raptor®
, Ballistic
®
,
AmmoTenna®
,
Metra PowerSports®
, Saddle Tramp
®
,
Metra Marine®
and Daytona Lights
®
. Metra's expertise in connectivity solutions is also applied to its division of premium AV and surveillance products from
MetraAV™
. For ordering information and pricing, visit Metra Electronics online at MetraOnline.com or call 386-257-2956.