New Metra PowerSportsŪ Products to Launch at SEMA 2023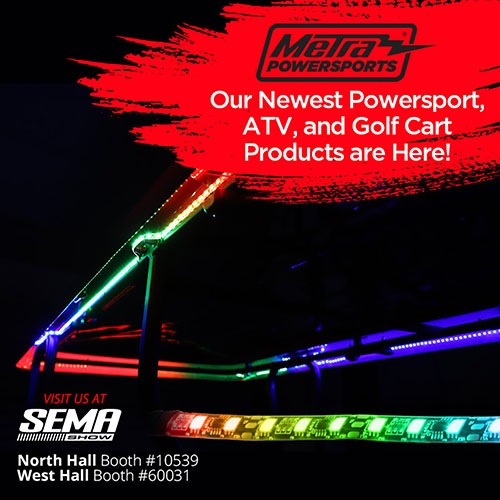 Holly Hill, FL
–
Metra PowerSports
®
by
Metra Electronics
®
is displaying new products at the SEMA Show, including a 6-zone switch panel designed for UTVs and other outdoor vehicles, a 4 AWG high current quick disconnect power block, a 4-piece chasing LED golf cart canopy kit, and Heise Connect RGB controller crossover cables. Metra's off-roading and powersports SEMA booth, #60031, will be in the West Hall of the Las Vegas Convention Center from October 31 to November 3.
6-Zone Switch Panel
Metra PowerSports is reintroducing the latest 6-zone switch control box for universal powersports applications such as UTV/ATV and golf carts. The MPS-SW6 offers two control options: switch knockout or app-controlled. This IP67 water-resistant rating switch box features the latest MOSFET™ chips designed for harsh environments and offers 700-watt power handling capability. It features a 6-button Carling-style switch and a Polaris® switch adapter. It is controlled via the MPS Switch app on compatible smartphones or tablets. The app features two strobe pattern options, a music sync setting, adjustable brightness on each channel, and more.
4 AWG High Current Quick Disconnect Power Block
The MPS-3PB is a durable, quick disconnect that allows for convenient, safe installation and servicing of amps, active subwoofers, or removable winches in powersport and marine applications. This product is designed for use in the harshest environments, unlike standard audio equipment that is not suited for off-road applications. This critical part of an installation can resist the elements to keep the system working great throughout rugged outdoor adventures.
4-Piece Chasing LED Golf Cart Canopy Kit
The MPS-CHASE-CPY can transform any golf cart into a vibrant spectacle of colorful light. Designed exclusively to fit golf cart canopies, this innovative kit includes two 36" chasing LED strips, two 8" chasing LED strips, mounting hardware, and, from Heise LED Lighting, the Heise Connect controller. The strips are durable and rated IP65, ensuring long-lasting performance and a brilliant glow for countless future rides. MPS has designed this kit to work cohesively with all Heise chasing LED lighting as part of the Heise Connect Universe (HCU). Lighting effects are controlled using the included RF remote or the Heise Connect app, available for download on smartphones and tablets. Users can choose from static color settings, 170+ color-changing patterns, DIY lighting patterns, music sync, and more.
Heise Connect RGB Controller Crossover Cables
The MPS-RGB-M2H includes four Heise Connect controller crossover cables that simplify RGB lighting installations. These cables remove the need to use multiple controllers and apps by connecting Metra PowerSports lighting products to a Heise Connect RGB controller. Users can then control their entire lighting system via the free downloadable Heise Connect mobile app.
More information about these products will be available at
MetraPowerSports.com
soon after the show.
About Metra Electronics®
At Metra, 12volt installation and integration is our passion. We strive to continuously offer the highest quality products to meet the fluctuating technological challenges of the automotive world. We actively listen to our customers' requests and invest resources in developing the highest quality dash kit and harness solutions. We make dash kits for more vehicle applications than anyone else in the world. That's why we've been known as "The Installer's Choice" ® for 75+ years. Our other brands include: Axxess®, T-SPEC®, The Install Bay®, Heise LED Lighting Systems®, iBEAM Vehicle Safety Systems®, Shuriken High Performance Batteries®, Raptor®, Ballistic®, AmmoTenna®, Metra PowerSports®, Saddle Tramp®, Metra Marine®, Daytona Lights®, and Tsunami®. For ordering information and pricing, visit Metra Electronics online at MetraOnline.com or call 386-257-2956.