New Safety Solutions from iBEAM to Launch at SEMA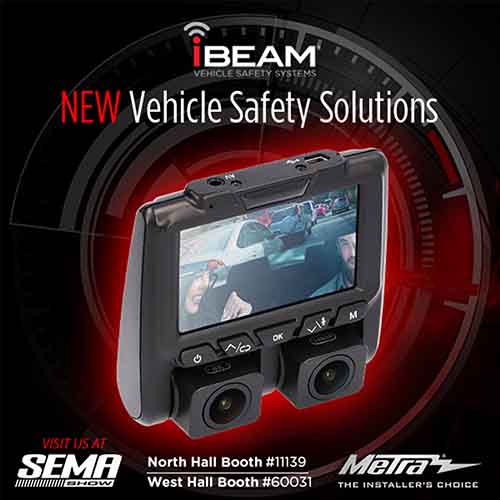 Holly Hill, Fla. –
iBEAM
Vehicle Safety Systems by
Metra Electronics
®
is introducing an assortment of new safety and surveillance solutions at the 2022 SEMA show, November 1st-4th at the Las Vegas Convention Center. On display will be a 9" Live View Streaming Rearview Mirror, a 4K Dual-View Dash Camera With DVR, a Universal Hardwire USB, and a variety of vehicle-specific Rearview Mirror T-Harnesses. These products are designed to increase safety for an assortment of vehicles and are easy to install.
9" Live View Streaming Rearview Mirror
iBEAM's new Universal 9" Live View Streaming Rearview Mirror, the TE-LVM9, provides full protection for the area surrounding the rear of your vehicle. This package includes the mirror, a 1080P camera, mounting hardware, a required harness, and other wiring for easy installation. When driving, a standard reflective mirror is displayed, but when the driver switches the vehicle into reverse, the built-in 9" monitor will automatically switch to the rear camera to provide guidance when reversing. This monitor also features an option to display a live stream of the rear camera when driving so that the driver has a clear view of what is behind their vehicle on the road. A G-sensor triggers the camera to begin recording if it detects an impact, so the vehicle is even protected when parked. A memory card of up to 64GB is supported so that video recordings can be saved and any accidents or incidents behind the vehicle are documented. This product is ideal for trucks, vans, RVs, and other large vehicles with rear blind spots. The TE-LVM9 is in stock and shipping.
4K Dual-View Dash Camera With DVR
iBEAM will also introduce a new high-resolution dual-view camera with DVR at The SEMA Show. It captures and displays a 140° wide-angle field of view to protect drivers from liability and increase safety. It quickly and easily mounts on your windshield to view and record the area in front of and inside your vehicle. Each lens can be directed toward the front windshield to view what is ahead of the vehicle, toward the vehicle's interior, or out the rear window to capture the view directly behind the vehicle. Both angles can be displayed simultaneously on the built-in 3-inch viewing screen that sits atop the two camera lenses. This dash camera features 4K HD recording, including audio which can be stored on a micro memory card of up to 32 GB. The TE-DVR-DL4K will be available and shipping soon.
Universal Hardwire USB
Another new product on display will be the TE-UNIV-USB, a new 2-amp, 5-volt Universal Hardwire USB. This innovative solution allows installers to conveniently and safely connect and power a vehicle camera or any other USB device. It connects directly to your vehicle's 12V power source to provide an alternative to the factory auxiliary power outlet.
Rearview Mirror T-Harnesses
iBEAM is also debuting plug-n-play rearview mirror T-harnesses that make connecting a vehicle safety and security camera easy without cutting your vehicle's factory wiring. These vehicle-specific T-harnesses include a 2-amp, 5-volt USB, which accommodates both USB "A" to Mini "A" and USB "A" to Micro "B" connections. Also included are 6" extension cables for easy installation. Vehicle applications for these new T-harnesses include:
?
Toyota 2014-2022 and Lexus 2010-2022*
?
Nissan 2005-2022 and Infiniti 2014-2021*
?
Dodge 2014-2022, Jeep 2014-2022, and RAM 2014-2022*
?
Acura 2004-2018 and Honda 2010-2021*
?
Nissan 2005-2022 and Infiniti 2014-2021*
?
Toyota 2014-2022, Honda 2016-2022, and Subaru 2016-2022*
?
Mazda CX5 2017-2021 and Mazda CX9 2016-2021 With Frameless Mirrors*
*Visit MetraOnline.com for up-to-date vehicle-specific applications.
These new products and more will be on display at Metra's SEMA booths. The manufacturer's main booth will be #11139 in the North Hall, and its off-roading and powersports products will be on display at booth #60031. More product details will be available at
ibeamusa.com
soon after the show.
About Metra Electronics®
At Metra, 12volt installation and integration is our passion. We strive to continuously offer the highest quality products to meet the fluctuating technological challenges of the automotive world. We actively listen to our customers' requests and invest resources in developing the highest quality dash kit and harness solutions. We make dash kits for more vehicle applications than anyone else in the world. That's why we've been known as "The Installer's Choice" ® for more than 75 years. Our other brands include:
Axxess®
,
T-SPEC®
,
The Install Bay®
,
Heise LED Lighting Systems®
,
iBEAM Vehicle Safety Systems®
,
Shuriken High Performance Batteries®
,
Raptor®
, Ballistic®,
AmmoTenna®
,
Metra PowerSports®
, Saddle Tramp®,
Metra Marine®
and Daytona Lights®. Metra's expertise in connectivity solutions is also applied to its division of premium AV and surveillance products from
MetraAV™
. For ordering information and pricing, visit Metra Electronics online at MetraOnline.com or call 386-257-2956.