Shuriken to Launch Lithium Series Batteries at SEMA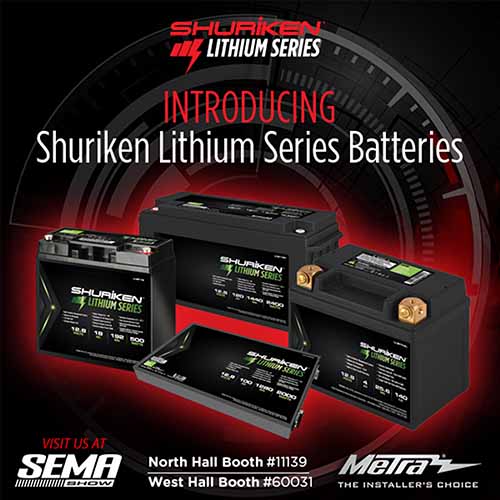 Holly Hill, Fla.
–
Shuriken
®
by
Metra Electronics
®
will introduce a new line of Lithium batteries at the 2022 SEMA show, November 1st-4th at the Las Vegas Convention Center. On display will be more than a dozen different products from this new line, designed to fit numerous applications, including audio, motorcycle, marine, auto racing, powersports, solar energy storage, and more. These Lithium Iron and Lithium-ion batteries are an excellent choice for situations where the power source needs to be lightweight and compact, with a quick energy discharge. They weigh much less than other batteries while remaining long-lasting, reliable, and vibration-resistant. Their internal components are sectioned into independent cells that make them safer and prevent them from shorting out if damaged. Products on display at SEMA will include:
Lithium Iron Batteries
Shuriken's new lithium iron (LiFePO4) batteries are a great choice for providing reliable power for numerous applications. They are designed to recharge quickly and hold a charge longer than conventional batteries. These batteries have an overcurrent detection circuit to protect them from damage and can be charged using Constant Current or Constant Voltage. This product line will offer a wide range of battery sizes and amperages, including one with a slim design that easily fits in confined spaces, such as behind interior panels.
Lithium-ion Batteries
The new lithium-ion batteries from Shuriken are ideal for providing reliable power for similar applications, as listed above. However, they are also designed to recharge extremely quickly, with 90% recharge in less than 6 minutes! They also have a longer shelf life during storage and operate through many more cycles than conventional batteries. They feature built-in short circuit protection and are dry cell batteries, which eliminates the risk of spills. These batteries are available in a variety of sizes, types, and amperages, including starting batteries.
Lithium Battery Chargers
Along with its line of new Lithium Series Batteries, Shuriken is introducing 3-Amp and 15-Amp chargers that keep these products fully charged and ready to perform. These reliable battery chargers are specifically designed to work with lithium technology and will recharge the power cells quickly and safely. Positive and negative battery terminal clamps are included for easy connection.
These new products and more will be on display at Metra's SEMA booths. The manufacturer's main booth will be #11139 in the North Hall, and its off-roading and powersports products will be on display at booth #60031. More product details will be available at
ShurikenOnline.com
soon after the show.
About Metra Electronics®
At Metra, 12volt installation and integration is our passion. We strive to continuously offer the highest quality products to meet the fluctuating technological challenges of the automotive world. We actively listen to our customers' requests and invest resources in developing the highest quality dash kit and harness solutions. We make dash kits for more vehicle applications than anyone else in the world. That's why we've been known as "The Installer's Choice" ® for more than 75 years. Our other brands include:
Axxess®
,
T-SPEC®
,
The Install Bay®
,
Heise LED Lighting Systems®
,
iBEAM Vehicle Safety Systems®
,
Shuriken High Performance Batteries®
,
Raptor®
, Ballistic®,
AmmoTenna®
,
Metra PowerSports®
, Saddle Tramp®,
Metra Marine®
and Daytona Lights®. Metra's expertise in connectivity solutions is also applied to its division of premium AV and surveillance products from
MetraAV™
. For ordering information and pricing, visit Metra Electronics online at MetraOnline.com or call 386-257-2956.