T-SpecŪ to Unveil New Competition-Rated Car Audio Accessories at The SEMA Show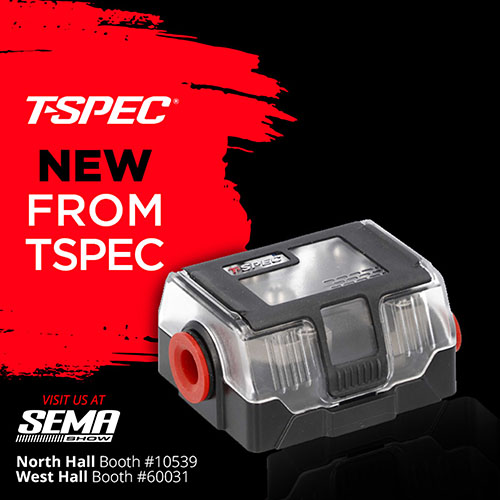 Holly Hill, Fla.
–
T-Spec
®
by
Metra Electronics
®
will showcase new clean wire audio installation products and more at SEMA 2023. The brand will debut a 3-position ground distribution block, a 3-position fused distribution block, and a 380-piece heat shrink label and ferrule kit that can be perpetually replenished with a variety of new ferrule and heat shrink restocking packages. These new products will be displayed from October 31 to November 3 at the Las Vegas Convention Center in Las Vegas, Nevada, expanding the brand's premium competition-rated car audio accessories designed with the finest materials for maximum performance.
3-Position Ground Distribution Block
T-Spec's new 3-position ground block, the VDB3, helps distribute every ounce of power that a car's electrical system can deliver to aftermarket amplifiers by providing a high-quality ground distribution system that multi-amp systems require. Solid, all-brass construction provides maximum current flow to amplifiers. The compact design is a fraction of the size of traditional distribution blocks and uses T20 Torx® screws for a hassle-free installation. A newly redesigned high-tech appearance and black nickel finish make this distribution block look as good as it performs, and the 3-position style is ideal for systems with 3 amps.
3-Position Fused Distribution Block
T-Spec's new 3-position fused distribution block, the VFDB3, has all of the innovative features as the VDB3 and provides the same high-quality power distribution for high-end aftermarket amplifiers. However, this product also features fused outputs to ensure that audio system components are protected and accepts MANL fuses. Both of these new distribution blocks feature:
? (1) 1/0-4 AWG in, (3) 4/8 AWG Out
? TPE-wrapped soft touch
? Set of dual gasket sizes
? Water-resistant
? Solid brass construction
? Black nickel finish
? T20 Torx® screws
? Universal applications
? 1-year warranty
Clean Wire Installation Heat Shrink Label and Ferrule Kit
T-Spec's new 380-piece clean wire installation heat shrink label and ferrule kit, the VCLEAN-KT, includes the ferrules and heat shrink labels needed to make clean wire audio installations seamless. These easy-to-use clean wire solutions elevate an installation to showroom quality by helping installers perfect every last detail. This kit includes:
? (20) 10GA heat shrink labels (V10GA-20)
? (20) 8GA heat shrink labels (V8GA-20)
? (20) 4GA heat shrink labels (V4GA-20)
? (20) 0/1GA heat shrink labels (V0GA-20)
? (120) Speaker wire heat shrink labels (VSPHS-PK)
? (10) Blue 16/18GA ferrules (V1618BL-FERR)
? (50) Red and (50) black 16/18GA ferrules (V1618GA-FERR)
? (10) Red and (10) black 10GA ferrules (V10GA-FERR)
? (10) Red and (10) black 8GA ferrules (V8GA-FERR)
? (10) Red and (10) black 4GA ferrules (V4GA-FERR)
? (10) Red and (10) black 0/1GA ferrules (V0GA-FERR)
T-Spec is also introducing each of the individual quantities of heat shrink labels and ferrules included in this kit as an individual product that can be ordered separately as convenient refill packs. This will give installers the flexibility to replenish their clean wire audio installation components without purchasing an entirely new kit.
More product details will be available at
TSpecOnline.com
soon after the show.
About Metra Electronics®
At Metra, 12volt installation and integration is our passion. We strive to continuously offer the highest quality products to meet the fluctuating technological challenges of the automotive world. We actively listen to our customers' requests and invest resources in developing the highest quality dash kit and harness solutions. We make dash kits for more vehicle applications than anyone else in the world. That's why we've been known as "The Installer's Choice" ® for 75+ years. Our other brands include: Axxess®, T-SPEC®, The Install Bay®, Heise LED Lighting Systems®, iBEAM Vehicle Safety Systems®, Shuriken High Performance Batteries®, Raptor®, Ballistic®, AmmoTenna®, Metra PowerSports®, Saddle Tramp®, Metra Marine®, Daytona Lights®, and Tsunami®. For ordering information and pricing, visit Metra Electronics online at MetraOnline.com or call 386-257-2956.