New Upgrades for Jeep® are Coming to SEMA 2023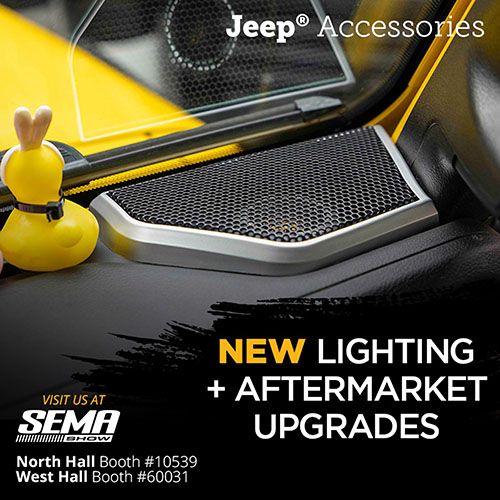 Holly Hill, Fla.
–
Metra Electronics
®
is introducing new aftermarket accessories and RGB lights designed to fit select Jeep
®
Gladiator and Wrangler vehicles at this year's SEMA Show. These products will be showcased from October 31 to November 3 at Metra's off-roading and powersports SEMA booth, #60031, in the West Hall of the Las Vegas Convention Center. Metra is introducing new dashboard speaker grilles, lower dash speaker grille cut-ins, replacement fender clips and rivets, an A-pillar 8 gang switch panel system, 7" LED headlights and 4" LED fog lights with RGB halo, and a turn signal trigger harness. These new accessories are designed for popular Jeep
®
models and provide customization options that are durable enough to withstand off-roading wear and tear.
Dashboard Speaker Grilles and Lower Dash Speaker Grille Cut-ins
Metra will display two new styles of custom-designed speaker grilles at SEMA, designed to enhance the interior appearance of select Jeeps when installing aftermarket speakers. The JP-1017 is a set of dashboard speaker grilles designed to fit the 2018-Up* Wrangler JL and the 2020-Up* Gladiator JT. The JP-1018 are lower dash speaker grille cut-ins designed to fit the 2018-2023 Wrangler JL and the 2020-2023 Gladiator JT. The JP-1017 allows speakers to be upgraded to a larger tweeter or mid-bass speaker for a more vivid sound while adding a bold style. These speaker grilles feature a black metal mesh grille with silver accents for a rugged and tough off-road look and are designed to complement the new JP-1018 lower dash speaker grille cut-ins perfectly. The JP-1018 allows installers to widen the factory 4-inch opening to accommodate an upgrade to 6.5-inch speakers. They are designed to complement the JP-1017 dashboard speaker covers and Metra's popular JP-1014 dash speaker pods.
Replacement Fender Clips and Rivets
Metra will introduce products at SEMA that help installers reinstall fenders on the 2018-Up* Jeep® Wrangler JL and 2020-Up* Jeep® Gladiator when swapping them out and installing new fender lights more efficiently. The JP-FCLIP replacement fender clips and the JP-FPIN replacement fender rivets are designed to replace OE parts that often break during the removal of the fender. These products are sold in convenient 30-piece packs and will save installers time while providing a secure, factory-quality fit. These products eliminate the hassle of repairing or reusing broken clips and offer a convenient solution to single-use OE rivets that commonly break during fender removal.
A-Pillar 8 Gang Switch Panel System
The JP-APS-JK is an 8 gang switch panel system that features vehicle-specific brackets, making it a custom solution for the 2007-2018 Jeep® Wrangler JK. The included replacement A-pillar cover mounts the water-resistant switch panel vertically, and two types of adapters are provided to fit the panel to Jeep Wrangler JK interiors. This versatile panel can handle all types of 12V DC accessories and allows users to control up to 8 different auxiliary LED lights or electrical devices. An included sheet of 50 decals is designed to fit the vertical orientation of the panel and customize it accordingly, with blue LED backlighting to illuminate the switches. The compact under-hood control box is rated IP68 and easily affixes to OE mounting locations along with the resettable 60-amp circuit breaker using two included vehicle-specific brackets. There are two 30-amp, two 20-amp, two 10-amp, and two 5-amp circuits that can be programmed to latching (on/off) or momentary. T-Spec's V10 fully tinned OFC marine-grade power and ground cables are included to power the controller for maximum reliability.
7" LED Headlights and 4" LED Fog Lights with RGB Halo
Metra will display two new light sets at SEMA designed to fit the 1997-2018 Jeep® Wrangler TJ and JK, which can also fit the 2018-2024 Jeep® Wrangler JL and Gladiator JT using Metra's JP-JLB7 adapters. The JP-702RGB is a pair of 7-inch LED headlights with RGB halo, and the JP-702RGBFL are 4" LED Fog Lights with RGB halo. Both of these sets come with a Heise Connect RGB controller that allows users to easily control their RGB lighting from the palm of their hand when paired with the Heise Connect free downloadable app for smartphones or tablets. The app lets users choose from 16 million RGB color options with a selectable color wheel and provides seamless control with endless customization options. The headlights each have an output of 3600 lumens for the high beam and 1800 lumens for the low beam. Durable polycarbonate lens covers and die-cast aluminum alloy housing make these light sets ideal for adventurous Jeep® owners, and they work cohesively with all Heise RGB lighting as part of the Heise Connect Universe (HCU).
Turn Signal Trigger Harness
Metra will also display its new turn signal trigger harness, the JP-TSH2, for the 2007-2018 Jeep® Wrangler JK. This harness makes the installation of aftermarket fender lights, alarms, lights, cameras, blind spot sensors, or other equipment that requires left and right light triggers hassle-free. It installs between the factory connector and the wires for aftermarket lighting and eliminates the need to cut or splice a stock harness. Both left and right-side harnesses are included and provide triggers for turn signals and the parking light.
Additional information about these products is available at
MetraOnline.com
.
* Visit MetraOnline.com for up-to-date vehicle specific information.
About Metra Electronics®
At Metra, 12volt installation and integration is our passion. We strive to continuously offer the highest quality products to meet the fluctuating technological challenges of the automotive world. We actively listen to our customers' requests and invest resources in developing the highest quality dash kit and harness solutions. We make dash kits for more vehicle applications than anyone else in the world. That's why we've been known as "The Installer's Choice" ® for 75+ years. Our other brands include: Axxess®, T-SPEC®, The Install Bay®, Heise LED Lighting Systems®, iBEAM Vehicle Safety Systems®, Shuriken High Performance Batteries®, Raptor®, Ballistic®, AmmoTenna®, Metra PowerSports®, Saddle Tramp®, Metra Marine®, Daytona Lights®, and Tsunami®. For ordering information and pricing, visit Metra Electronics online at MetraOnline.com or call 386-257-2956.